NOTES FROM THE FOREST: DAY 1
---

June 2023
Anonymous

What follows is the first in a series of daily dispatches from a comrade who is attending the Weelaunee Summer Week of Action (June 24-July 1) in Atlanta, Georgia:

Saturday, 6/24/2023

We drove for the better part of thirty hours, straight from the heart of the Sonoran Desert to the

City in the Forest

. We watched as the arid desert landscape faded into the horizon behind us, the forest emerging in its absence. The dry air that I've associated with home since I was a child gave way to the oppressive humidity of summer in the Deep South. Still, the cicadas followed us the whole way.
We passed the hours with music and conversation, half-delirious jokes and discussions about politics, life, and life-as-struggle, held together in common:


"To struggle means that we are alive and that our hearts are still beating.




To struggle is to affirm life."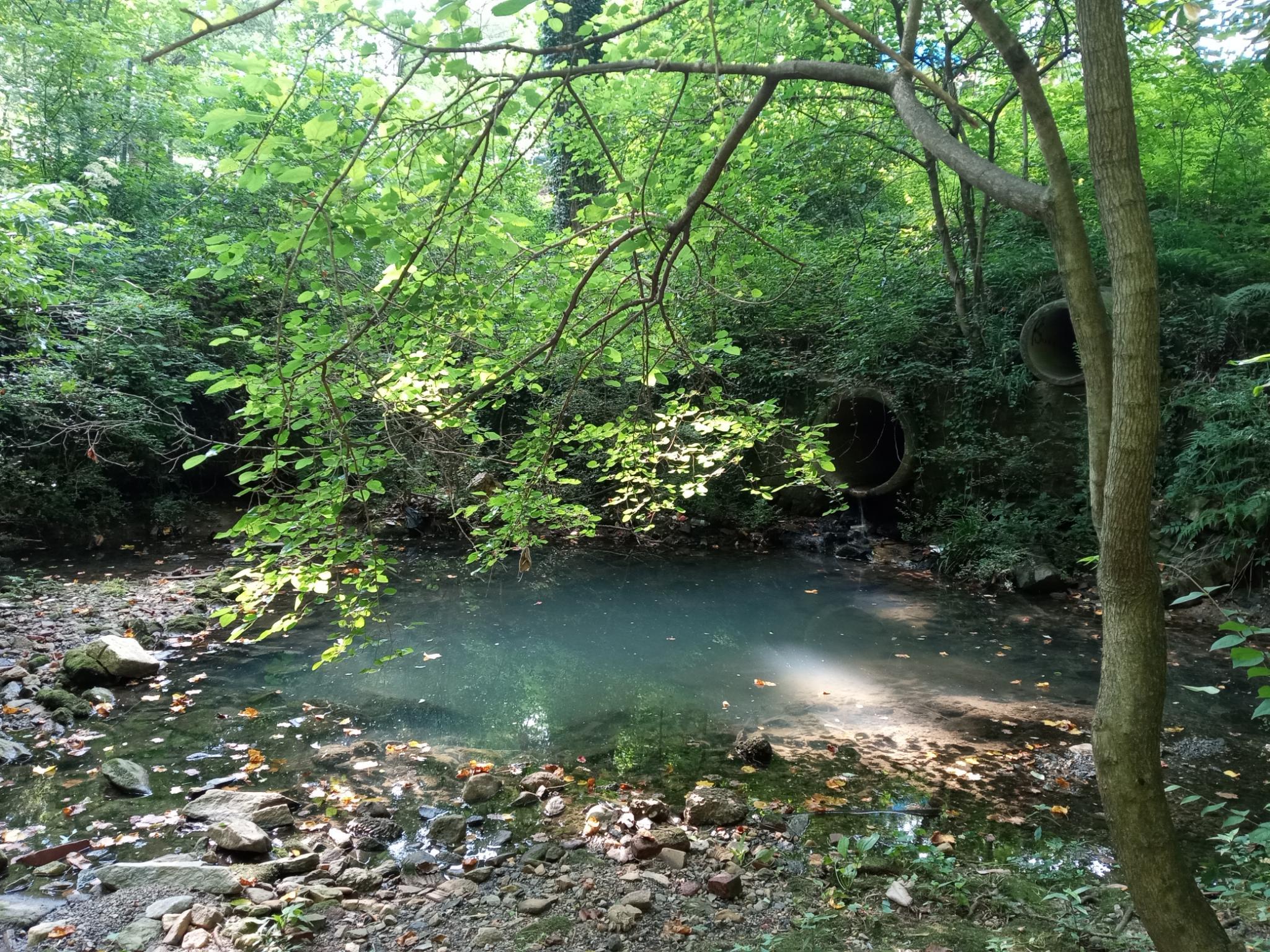 We made it to Atlanta's Brownwood Park around noon today. A welcome tent staffed by someone who introduced themself as "Shit for Brains" oriented us to our surroundings: camping in the one half of the park, a gathering space in the other. "Shit for Brains" informed us of the present frontline in the struggle to stop cop city: the City of Atlanta refused to install the port-o-potties that the movement had rented. Thus, related activities would have to be conducted at a sympathetic café down the block.
In the gathering space, the mood was laid-back and anticipatory. A live DJ performed as friends and families visited with one another. Children played in a bounce house, behind it hung a banner that read: "We End Police Terror Together."
A brief surge of anxiety rushed past me as the sounds of a drone and then a helicopter carried overhead: the trauma and tension of the March 5th raid still bubbling up, a brief reminder of the conflict that this otherwise tranquil place was the heart of. For the moment, though, the pervasive feeling is of love, joy, and the welcoming of the multitude of partisans in the struggle to stop cop city and honor the memory of Tortuguita.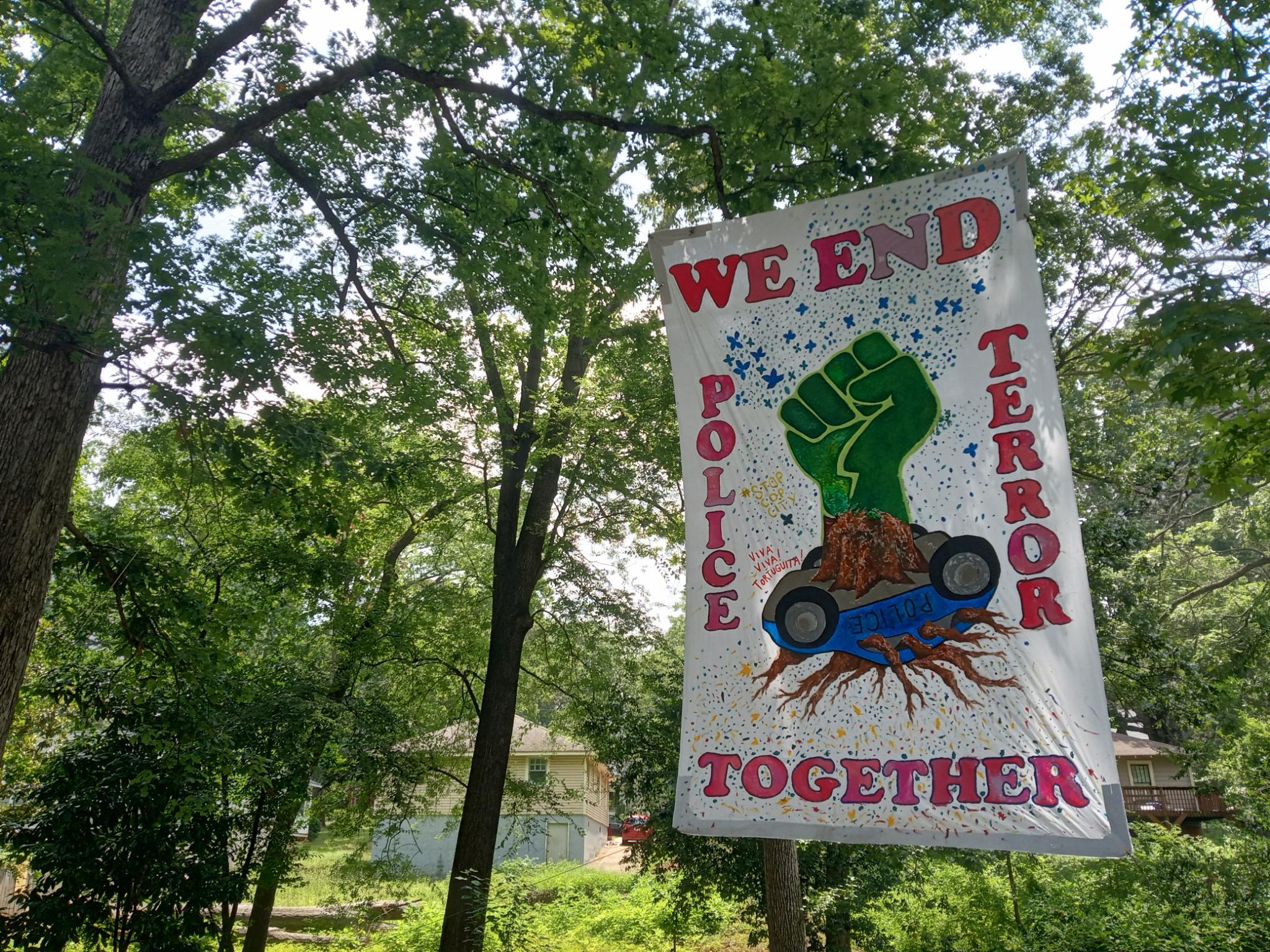 Day passed to evening without major event. Police patrols circled the park as friends embraced one another. Around 8:30 pm, as the sun started to set, a large group of police marched through the park, announcing their intention to sweep the area when it closed at 11 pm. They were confronted with chants from an undeterred and defiant crowd, and pushed back out of the park.
Soon after, a vigil for Tortuguita began. Their mother, Belkis Terán, spoke to a group of seventy about her child and the life they lived while seated before an altar decorated with string lights.
"We have to carry the torch and continue with it."
She performed a song, one that she had previously sung while spreading Tortuguita's ashes upon the ground where they were murdered. We then sung a chorus of No Pasarán as a group, supported by the cicadas in the night sky.
"The best way to defeat the police is be happy."
From the road, police continued to circle the park, a helicopter above mirroring their movements. As 11 pm approached, nervousness overcame the group and most opted to leave prior to the curfew. In a hurry, rides and places to sleep were arranged and people dispersed into the Atlanta night.